Halloween III: Season of the Witch
I assume it is widely known by now, but it bears repeating: the Halloween franchise was originally intended to be an annual anthology of unrelated, seasonal movies. In other words, the first Michael Myers slasher should have been a one-off, rather than the starting point for the behemoth it created.
Halloween was, of course, a huge hit, and a direct sequel was commissioned shortly after its 1978 release. It wasn't until this third entry, Season of the Witch, the original plan of an anthology was put back in motion.
Season of the Witch, then, has nothing to do with Michael Myers. Instead, we follow Dr. Dan Challis (Tom Atkins, looking suspiciously like the Brawny Man) trying to solve the murder of one of his patients. The investigation leads him and the victim's daughter, Ellie, to the town of Santa Mira, which is the home of Silver Shamrock Novelties. As it turns out, the factory owner is trying to use the power of Stonehenge to kill all children wearing its masks on Halloween. So, yes, you probably see where this is all going.
It might not sound like much of a plot, but the movie is surprisingly well made, and better than most of the Halloween sequels that followed it. The public wasn't too thrilled with the lack of Michael Myers in 1982 (the first film is shown on T.V.s within this movie, rubbing in that there truly are no connections between the two), and this would be the last standalone entry in the franchise. That is too bad. They – including John Carpenter, who is credited as co-producer and co-composer – at least tried something different.
Season of the Witch has a suitable B-movie feel, and somewhat unexpectedly ends up echoing the type of folk horror seen in everything from The Wicker Man to Midsommar. The town of Santa Mira is decidedly creepy, constantly under surveillance by the Shamrock factory and its men-in-black agents. It works well, and the pacing from the initial murder to the proper Halloween style ending is spot on. Season of the Witch is particularly well edited.
I would hands-down have recommended this movie, had it not been for its gender roles which are, shall we say, problematic. Dr. Challis doesn't just look like the Brawny Man, he also behaves how I presume the famous toilet paper mascot would. A slap on a nurse's behind is met with a oh, doctor Challis! style giggle, and it takes less than three scenes for Ellie to fall headfirst into his arms. This all within the first twenty minutes. Watching those scenes today is cringeworthy (I assume it was in '82, too), and Season of the Witch slathers it on worse than almost any movie I can remember.
Put that aside… a big that as it is… and you have a good, creepy movie. Season of the Witch is an admirable take on the folk horror genre, and it showed that at least for a hot minute, there was an interest in making something more out of the Halloween franchise than an endless cycle of Michael Myers slaughter.
Bonus image!
I mean, just to drive home the point…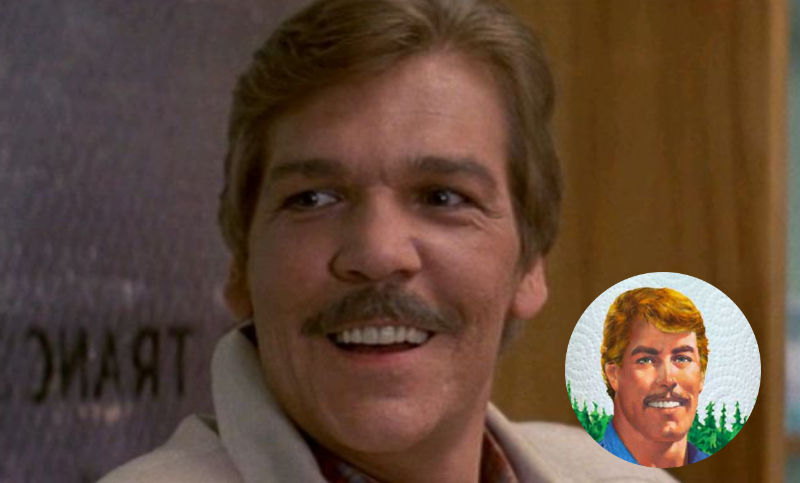 Bonus read!
My write-up on Halloween 6: The Curse of Michael Myers, Paul Rudd's first, and surprisingly not last, movie.
Letterboxd summary: Dr. Daniel Challis and Ellie Grimbridge stumble onto a gruesome murder scheme when Ellie's novelty-salesman father, Harry, is killed while in possession of a halloween mask made by the Silver Shamrock mask company. The company's owner, Conal Cochran, wants to return Halloween to its darker roots using his masks -- and his unspeakable scheme would unleash death and destruction across the country.
---
Ratings from around the web
---
Trailer
---