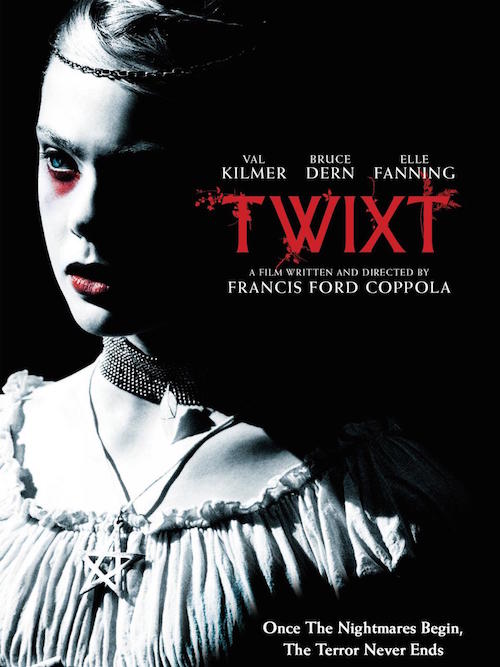 Francis Ford Coppola still makes movies? Val Kilmer still acts in them? Introducing Twixt, a movie few know exist, while those of us who do wish it didn't.
This is one mess of I-don't-know-what. It is a movie that ends with Coppola and Kilmer crooning a rousing little number called «Nosferatu» over the end-credits. Mull that over for a second. The man who directed Apocalypse Now and Jim Morrison joining together in a quasi-goth karaoke session. The mind boggles, and the numerous references to the Doors' «The End» might serve as some sort of indicator of where Kilmer wishes his career was floating.
Oh, Val. Val, Val, Val. What happened to you? Here's a man who truly has acted in some gems—Kiss Kiss Bang Bang, for heaven's sake—before he seemingly vanished. Yet here he returns, pulled out of retirement by a director I never found to be that awesome in the first place. (The Godfather? In the words of Peter Griffin: «It insists upon itself.» That's right, I'd rather watch Family Guy than The Godfather.) Hell, for all I know, Val might be on peak-form in Twixt. It's hard to say when he must deliver lines like «People are saying what's going on up here is evil. Are you worried about that?»
Writing aside, Twixt largely seems unfinished. Some scenes look like they have yet to be color-processed (think that patented The Tomb-look), while others (and this is the movie's one plus-point) are gorgeous looking. Neither make much of a difference, of course, when Coppola's direction of the actors makes George Lucas downright seem like a people-person. I mean, good grief, the best part is Elle Fanning's acting, and that's only because her crying seems real. (Which I assume it is, and that it mostly stems from her realizing her career is ending at the age of 12.)
Look, I get it. You stumble across this on Netflix, and you think «how bad can it really be?» The answer is pretty damn bad. This may very well be the most ridiculous movie I've ever watched, and that says something. Don't fall into the trap of thinking this one time the latter-day work of an elder god will stack up, because it won't. It doesn't. Live dangerously, and give something like Mr Jones a shot. Sure it's flawed , but at least they tried, and that's more than I can say about Coppola, who I would hope to god will stick to supporting his daughter's films, as well as his burgeoning wine business.
Letterboxd summary: A declining writer arrives in a small town where he gets caught up in a murder mystery involving a young girl.
---
Ratings from around the web
---
Trailer
---